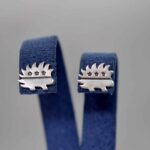 We want to thank you for donating to the LPNM. As our gift to you, you can select to receive one of the items above at the recommended donation amount.
The premium quality gray t-shirts with a custom Zia design on the front and the official logo on the back. $25
Tshirt designed by Daniel Gonzales, DG Graffix, Deming, NM
The torch pendant with chain $100
The custom made  Libertarian Torch label pin $40
The porcupine earrings $40
All jewelry was designed by Elliot Shelton of Shelton Jewelers, Albuquerque, NM
Please use the comment box to indicate size of shirt: Medium, Large or Extra-Large.
Your purchase helps us spread the message of liberty across New Mexico, support Libertarian candidates and hold events. Please consider joining the party as a caucus member and making a recurring monthly donation!
Buy Swag
Save
Save