Chris Luchini, Chairman
After the early indiscretions of youth, Chris Luchini has been a lifelong Libertarian. He has been active in Libertarian politics since the 1980s  in various states such as New Mexico, California and Illinois. While the 2016 Johnson campaign manager for Los Alamos County, he lead a very active team to garner the highest vote percentage of any county in the US for Johnson. While Membership Chair of the Libertarian Party of New Mexico, coordinated the accumulation of voter data bases to allow for an efficient campaign for 2017 and 2018 election cycle candidates.
He grew up in southern New Mexico and holds a PhD in High Energy Physics. He worked for NASA and Los Alamos National Laboratory before launching his own businesses including a green energy business and a specialty software business for governmental agencies among others.​
---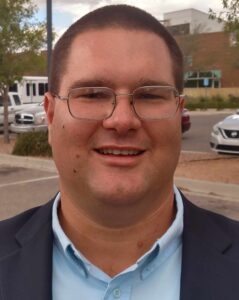 Paul McKenney, First Vice Chair
Paul grew up in a conservative household and joined the Air Force at the age of 19.  He spent 6 and half years on active duty including one tour in Iraq and an additional 3 years in the reserves.  Paul was never very interested in politics until he took an economics class in 2015 and heard about Milton Friedman and for the first time heard about libertarianism.  He listen to hours of content from FEE and the Mises Institute.  Shortly he was hooked on the ideas of liberty, and motivated to share them with the world.  In 2017 he was unsuccessful at unseating the long term Republican in his City Council district.  In December of 2018 he became the County Chair for Bernalillo County.  Paul is mainly interested in free-market economics and reducing the size and scope of government.
---

Elizabeth Hanes, Second Vice Chair
A lifelong libertarian, Elizabeth joined the party in 2012 during Gary Johnson's first campaign for president. In her capacity as second vice chair, Elizabeth plans, coordinates, and executes the LPNM's communications strategies, including media relations, social media, and more. Elizabeth lives in Albuquerque and serves on the Bernalillo County LPNM affiliate organization. An RN and entrepreneur, Elizabeth earned her living for the past decade as a freelance writer and now coaches other nurses on how to set up their own successful writing businesses.
---

Chris Manning, Treasurer
Chris Manning grew up in the small town of Kirtland NM.  He attended college at Arizona State University and received a degree in Secondary Education with an emphasis in History. He served six years in the Arizona Army National Guard with a combat deployment to Afghanistan in 2007-2008. In 2016 he returned home to New Mexico to work full time at the family business.
---
Frederick J. Snoy II MD, Secretary
Born and raised in Indianapolis, Indiana, Fred was very fortunate to get an excellent education thanks to the extremely hard work and sacrifice of his parents. He discovered early on he loved the West and attended college in Denver at Regis University.
With an eye on being in the medical profession, Fred ended up back in Indiana where he obtained a master's degree in Cardiac Physiology before attending Indiana University Medical School.  Based on the master's program, he thought he would be a cardiologist, but, a long story later … he ended up specializing in Urology.
Being matched for residency in the Urology Department at UNM Hospital and the 5 years of that training program, Fred discovered a love for New Mexico, the land, and the people, although honestly, he did not see too much outside of the hospital walls in those early years.
Fred decided to stay in Albuquerque after residency and opened a Urology practice. The initially solo practice slowly built into a single specialty group that at one time boasted 6 urologists. New Mexico invested wisely in Fred's medical training as he has remained in NM his whole career. Through his dedication to the Land of Enchantment he has provided tremendous amounts of care to New Mexicans all over the state, including clinics in Grants and Socorro for 17 years. Today, Fred is the longest practicing Urologist in New Mexico. Fred is blessed to have two beautiful sons who both live on the Albuquerque's West side.
Fred has been a registered Libertarian since 2010.  He is motivated by the love of our country, our constitution, and a vision of possibilities beyond the mess our current 2 party system has devolved into.  Please join Fred in moving New Mexico forward.