Executive Biographies – Libertarian Party of New Mexico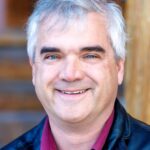 Chris Luchini, Chairperson
After the early indiscretions of youth, Chris Luchini has been a lifelong Libertarian. He has been active in Libertarian politics since the 1980s  in various states such as New Mexico, California and Illinois. While the 2016 Johnson campaign manager for Los Alamos County, he lead a very active team to garner the highest vote percentage of any county in the US for Johnson. While Membership Chair of the Libertarian Party of New Mexico, coordinated the accumulation of voter data bases to allow for an efficient campaign for 2017 and 2018 election cycle candidates.
He grew up in southern New Mexico and holds a PhD in High Energy Physics. He worked for NASA and Los Alamos National Laboratory before launching his own businesses including a green energy business and a specialty software business for governmental agencies among others.​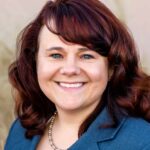 Helen Milenski, Vice Chair
Helen M. Milenski was born in Kansas, but moved to New Mexico with her family in 1988. She graduated from Los Alamos High School and has a deep affection for Los Alamos as her hometown. She has a strong love for her two beautiful daughters and supportive husband.
She returned to school in 2013 and graduated from the University of New Mexico – Los Alamos with her Associate of Science in Pre-Engineering. During her education she was awarded several scholarships as well as two internships with Los Alamos National Laboratory. Upon being awarded her degree she was offered a position with Chemistry – Chemical Diagnostics and Engineering at LANL.
She became a Libertarian years ago when she felt that the current two party system was broken and no longer represented the people. "The two party system juggles the citizens back and forth, and with each fumble we lose more freedom. Libertarianism tries to give back those
freedoms which we are losing, or are in danger of losing."
Helen became involved with the Libertarian Party during the recent Gary Johnson bid for the Presidency. Shortly after the election she volunteered to take on the job as the Los Alamos County Chairperson for the Libertarian Party of New Mexico (LPNM). She now has agreed to take on the job as the Vice Chair at the state level for the Libertarian Party of New Mexico.
She has been involved locally, fighting for private property rights against governmental overreach in the form of authoritarian county ordinances. She has been vocal in calling for her local County Council to hold a higher degree of fiscal stewardship and budgetary scrutiny. Both of these ideals are part of the core Libertarian principles.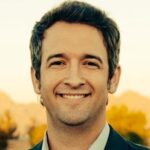 David Clements, Vice Chair of Legal Affairs
Secretary David Clements is the Deputy District Attorney for the 12th Judicial District, supervising all Lincoln County prosecutions, attorneys, and staff personnel. He focuses his own trial practice on violent crimes and has successfully prosecuted cases ranging from drive-by shootings to rape and first degree murder. David was recently recognized for his efforts as the Outstanding Prosecutor of the Year for the 12th District.
While David's professional career is that of a trial attorney, his life's passions are his family and the liberty movement. David was honored to serve as the New Mexico state chairman for the Gary Johnson/Bill Weld presidential campaign. Prior to that, David ran as the liberty option for the United States Senate in 2014, almost scoring a major upset by receiving 48% of the vote at the state GOP convention while being outspent 10 to 1. When time allows, David also serves as News Editor and Legal Analyst for the New Mexico Politico, a pro-liberty and free market news media site.
In 2013, David helped lead a grassroots operation that removed and replaced every state central committee member and party officer in the Dona Ana County Republican Party with libertarian and pan-conservative members, and was also elected as a national presidential delegate for Ron Paul, while ultimately casting his vote for Governor Johnson in the general election.
David's journey towards libertarianism began with his law school thesis focusing on the audit history of the Federal Reserve. The staggering national debt and 2008's great recession spurred intensive study in Austrian economics and ultimately shaped David's pusuits in liberty activism at all levels. David is proud of being part of the new leadership of the LPNM and desires to see Libertarians shape the political landscape in New Mexico.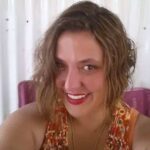 Ranota Banks, Secretary
Since her youth, Ranota Banks has been in the hot pursuit of acquiring knowledge. One day, she looked up from her book and realized that reality was beginning to mirror the plot of a dystopian novel.
Alarmed, she began her journey to help bring liberty back. Armed with knowledge, she began volunteering to assist with liberty-minded candidates. This eventually led her to the front steps of Libertarianism. For her and her activist family, it became more than a political party; it was a way of life.
Ranota spends her time in Northern New Mexico with her family continuing the pursuit of knowledge, volunteering, and promoting liberty.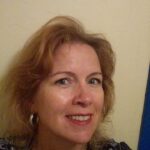 Rebecca Lescombes, Treasurer
Treasurer Rebecca Lescombes has been involved in New Mexico small business and agriculture since her high school days. She assisted her grandparents in their fields and their farmers' market stand in Las Cruces, worked in the hospitality industry as both back of the house and front of the house staff,  served as an accounting liaison in an international materials conglomerate, acted as CFO in a regional food manufacturer,  and is now a co-owner of Southwest Wines, a New Mexico winery featuring vertical integration from agricultural production, manufacturing, and distribution through traditional wholesale channels as well as its own restaurants and store.
She received a bachelor's degree in accounting from NMSU. Currently, in addition to serving in an advisory role at Southwest Wines, she also serves as secretary for the Board of Directors of the Deming-Luna County Chamber of Commerce, and is a member of Silver Spikes, a Luna County organization that works as a liaison between local businesses, local government and state government. She also is on the Tourism Development Committee in Deming, NM.
She has lived in New Mexico since she was a young girl, and she now makes her home in Deming, NM, with her husband and 6 children. In her spare time, she enjoys hiking, camping, card games, and cooking.