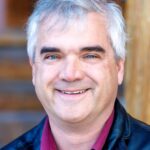 Chris Luchini, Chairman
After the early indiscretions of youth, Chris Luchini has been a lifelong Libertarian. He has been active in Libertarian politics since the 1980s  in various states such as New Mexico, California and Illinois. While the 2016 Johnson campaign manager for Los Alamos County, he lead a very active team to garner the highest vote percentage of any county in the US for Johnson. While Membership Chair of the Libertarian Party of New Mexico, coordinated the accumulation of voter data bases to allow for an efficient campaign for 2017 and 2018 election cycle candidates.
He grew up in southern New Mexico and holds a PhD in High Energy Physics. He worked for NASA and Los Alamos National Laboratory before launching his own businesses including a green energy business and a specialty software business for governmental agencies among others.​
---
Paul McKenney, First Vice Chair
Paul grew up in a conservative household and joined the Air Force at the age of 19.  He spent 6 and half years on active duty including one tour in Iraq and an additional 3 years in the reserves.  Paul was never very interested in politics until he took an economics class in 2015 and heard about Milton Friedman and for the first time heard about libertarianism.  He listen to hours of content from FEE and the Mises Institute.  Shortly he was hooked on the ideas of liberty, and motivated to share them with the world.  In 2017 he was unsuccessful at unseating the long term Republican in his City Council district.  In December of 2018 he became the County Chair for Bernalillo County.  Paul is mainly interested in free-market economics and reducing the size and scope of government.
---

Mayna Myers, Second Vice Chair
Mayna joined the Libertarian Party in 2017 after finding that it fit her better with this party then any other party she had been involved with. She believes that people should be able to choose for themselves how they live as long as it does not affect anyone else. She also believes strongly that with out a victim there is no crime. She believes in ending prohibition, that taxes are theft, and that second amendment is there to protect the first amendment.
As a member of the party she attended the 2018 Convention and was elected as a central committee member. She also became chair of the Chaves County affiliate in South Eastern New Mexico. She made an effort to support all Libertarian candidates in the 2018 elections.
In 2018 she ran for Chaves County Magistrate Judge. This sparked a growth within Chaves county of the affiliate and the membership. Growing the membership has become a passion of hers, and she regularly  get asked what a libertarian is. Education is her goal in gaining membership in her area. She received 22% of the vote during this cycle, which for her area was a huge win.
She is a wife, mother of 6 and step mother of 5. Her family is supportive and that has gotten her through to where she is today. She is happy to be working for you as the Second Vice Chair of the Libertarian Party of New Mexico.
---

Chris Manning, Treasurer
Chris Manning grew up in the small town of Kirtland NM.  He attended college at Arizona State University and received a degree in Secondary Education with an emphasis in History. He served six years in the Arizona Army National Guard with a combat deployment to Afghanistan in 2007-2008. In 2016 he returned home to New Mexico to work full time at the family business.
---
Jeremy Myers, Secretary
Jeremy Myers was born in Albuquerque and has lived most of his life in the Albuquerque area. He majored in history and minored in economics at UNM. He then earned a Masters in Computer Information Systems from the University of Phoenix. He has over 20 years experience as a Data/IT professional and currently works for Sandia National Laboratories in the Data Sciences Department. He discovered that he was philosophically a libertarian in 2010 while discussing politics with his younger brother who was already a Libertarian.    After making that revelation, Jeremy began reading libertarian perspectives on philosophy, history, and economics, which resonated famously with him and provided the unifying theory that he had looked for in vain during his undergraduate studies.  Suddenly, previously disjointed facts of history, economics, law and ethics were pulled together into a cohesive whole that answers some of the toughest questions and provides a clear path of action to attain peace and prosperity and fully respects individual rights and freedoms.  The Mises and Cato Institutes were and continue to be some of his primary sources of inspiration and education.