Mayna Myers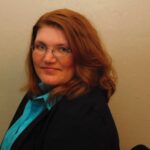 Chaves County District 2 Magistrate Court
Mayna Myers is running as the Libertarian Candidate for the Chaves County Division 2 Magistrate Judge.

Mayna is a mother of 6 children and 5 step children. Mayna and her husband have been together for the last 16 years and she feels very lucky to have such a supportive family.

Mayna  graduated with Honors from Provo College in Criminal Justice in 2009. During the time she spent at Provo College, she made the Dean's List 6 times, and had perfect attendance 3 semesters.  All while working at Utah State Prison.

From 2007-2011 she worked for Utah State Prison.  While working for the Utah State Prison, she was awarded a coin of accommodation for going above and beyond the call of duty.  She served on committees tasked with identifying and implementing new legislation for the corrections system.

In 2012 Mayna  worked as a trucy and In School Suspension officer for Alpine School District at Orem Jr. High School.

In 2012 Mayna moved to New Mexico and worked with in the corrections system as a Food Service Director, and was promoted to an Operations Support District Manager.  As both Food Service Director and Operations Support District Manager she worked in State Prisons, County Jails, and Detention Centers.

Mayna is presently  the Asset Protection Manager for Wal-Mart.

She will always use all her schooling and skill sets to serve her community in any way she can.

Mayna  believes in fair and consistent merit based judgement.
Disclaimer: LPNM.US posts candidate information without prejudice and with equal access to all Libertarian candidates in New Mexico. The party and its board do not endorse any particular candidate. For more info or to submit candidate information, please contact the party directly at the links provided on the main menu.