Organizational Structure
The Libertarian Party of New Mexico uses an organizational structure that maximizes efficiency and facilitates decision-making. The org chart looks like this:
LPNM Membership
|
Executive Committee
↓↑
Central Committee
|
Steering Committee
|
Departmental Committees
At the top of the structure is the LPNM Membership, which is currently comprised of around 6,100 people at various tiers including affiliate members, caucus members and life members.
The Executive Committee is directly elected by the membership at each state convention and represents the executive officers of the organization: Chairperson, Vice Chair, Secretary and Treasurer. These committee members perform all of the day-to-day management activities of the organization.
The members vest decision-making authority in the Central Committee. Comprised of as many as 181 members who are elected to seats by members at the statewide and county level, this body makes all major decisions regarding the organization's goals, strategy, policy and operations. It is similar to a corporate board of directors.
The Steering Committee is comprised of all members of the Executive Committee, plus all Cabinet Officers (see below). The Steering Committee develops recommendations for long-range plans and goals for the organization and submits them to the Central Committee for discussion/debate/approval/rejection. The Steering Committee also facilitates collaboration between the Departmental Committees.
The Departmental Committees stand beneath the Steering Committee. The chairpeople of these committees are Cabinet Officers, who serve on the Steering Committee. Members of the Departmental Committees develop the organizational plans and goals that have been approved by the Central Committee and execute the projects that support the daily activities of the organization. The three Departmental Committees are:
Finance/Administrative/Communications Committee
Membership/Outreach/Technology Committee
Politics/Policy/Compliance & Legal/Constitution & Bylaws Committee
 **We need volunteers – including some chairpeople – for these committees! Please visit the Volunteer page to learn more about how volunteering benefits you and to be considered for a position.
Executive Leadership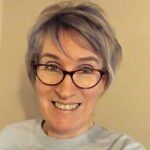 Chairwoman Elizabeth Hanes RN is an entrepreneur, writer and nurse. A longtime resident of Albuquerque, Elizabeth holds a pair of degrees from the University of New Mexico: Creative Writing and Bachelor of Science in Nursing.
Elizabeth has over 30 years of experience in public relations, marketing and communications. In 2012-13 she briefly served the Libertarian Party of New Mexico (LPNM) as a volunteer media relations manager. For over eight years, she has run her own writing business, Inkslinger Communications, which produces content marketing materials for a wide range of healthcare systems and corporations.
As a second-career nurse, Elizabeth was able to find an outlet for her desire to help people. This same passion for helping informs her journey into politics. Elizabeth feels the best way to help the most people all at once is through liberty-minded policy reforms. A lifelong "small-L" libertarian, she became active in the Libertarian party during Gary Johnson's 2012 bid for the presidency and again volunteered for the Johnson campaign in 2016.
A believer in the "big tent" variety of Libertarianism, Elizabeth aims to make the LPNM a welcoming place for a broad spectrum of viewpoints. She believes healthy, respectful debate is the key to advancing the Libertarian agenda in New Mexico. Her key goals for the LPNM during her tenure include solidifying the organization's corporate infrastructure to position it for future success, increasing fundraising exponentially and getting Libertarian candidates elected at all levels.
Elizabeth loves New Mexico in all of its diversity, from the people and culture to the natural environment. An avid walker and beginning hiker, she loves to take her Border collie mix dog, Mitzi, onto the trails to enjoy all that blue sky and fresh air. This love of the Land of Enchantment drives her to do everything she can – politically and otherwise – to help make New Mexico the greatest state in the union.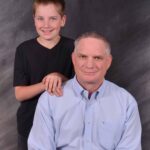 Vice Chair Jason Vaillancourt is a proud New Mexico native. Born free at Presbyterian Hospital, Jason has enjoyed living all over New Mexico, including Roswell, Edgewood, Tijeras, Rio Rancho, Los Lunas, Truth or Consequences and of course his home city of Albuquerque.
Born into a large and politically active family, Jason has been interested in politics since growing up in Truth or Consequences with his family, the Gardners of T or C and Hillsboro, NM. Both the late Clifford and still-alive- and-making-headlines, Nadyne Gardner-Daves, held the County Commission Seat for Sierra County at one time, and both have been considered movers and shakers in NM politics for the last half-century.
Jason has a broad range of work experience, including Chemical Dependency Counseling at Cottonwood de Albuquerque in Los Lunas, General Manager and Marketing Director for Planet Fun ABQ, Sales Management, and Regional Vice President for Teradon Industries, Inc.
Currently providing sales and consulting support for a Mosher Enterprises company, Jason has always demonstrated his ability to work with people from all walks of life and has a talent for building coalitions of people who will work toward a common goal.
Drawn to the message of Liberty and Free Market Solutions through the likes of Murray Rothbard, Lew Rockwell, and Ron Paul, Jason became a messenger of freedom in 2008 as he supported Ron Paul in the presidential primary. Realizing the GOP would never again nominate a liberty candidate for President, Jason subsequently moved to the Libertarian Party.
Jason is a single father who is trying to instill the values of liberty in his only son, Lyon. Jason believes that a truly free society is the most compassionate, most economically viable, and safest society we can leave for our children, our planet's most precious resource.
"I believe, at the end of the day, that our message wins. As ugly, rude, or scary as freedom is, it's still worth it."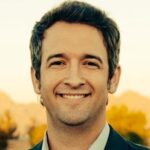 Secretary David Clements is the Deputy District Attorney for the 12th Judicial District, supervising all Lincoln County prosecutions, attorneys, and staff personnel. He focuses his own trial practice on violent crimes and has successfully prosecuted cases ranging from drive-by shootings to rape and first degree murder. David was recently recognized for his efforts as the Outstanding Prosecutor of the Year for the 12th District.
While David's professional career is that of a trial attorney, his life's passions are his family and the liberty movement. David was honored to serve as the New Mexico state chairman for the Gary Johnson/Bill Weld presidential campaign. Prior to that, David ran as the liberty option for the United States Senate in 2014, almost scoring a major upset by receiving 48% of the vote at the state GOP convention while being outspent 10 to 1. When time allows, David also serves as News Editor and Legal Analyst for the New Mexico Politico, a pro-liberty and free market news media site.
In 2013, David helped lead a grassroots operation that removed and replaced every state central committee member and party officer in the Dona Ana County Republican Party with libertarian and pan-conservative members, and was also elected as a national presidential delegate for Ron Paul, while ultimately casting his vote for Governor Johnson in the general election.
David's journey towards libertarianism began with his law school thesis focusing on the audit history of the Federal Reserve. The staggering national debt and 2008's great recession spurred intensive study in Austrian economics and ultimately shaped David's pusuits in liberty activism at all levels. David is proud of being part of the new leadership of the LPNM and desires to see Libertarians shape the political landscape in New Mexico.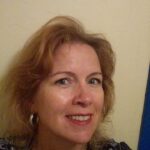 Treasurer Rebecca Lescombes has been involved in New Mexico small business and agriculture since her high school days. She assisted her grandparents in their fields and their farmers' market stand in Las Cruces, worked in the hospitality industry as both back of the house and front of the house staff,  served as an accounting liaison in an international materials conglomerate, acted as CFO in a regional food manufacturer,  and is now an owner of Southwest Wines, a New Mexico winery featuring vertical integration from agricultural production, manufacturing, and distribution through traditional wholesale channels as well as its own restaurants and store.
She received a bachelor's degree in accounting from NMSU. Currently, in addition to serving in an advisory role at Southwest Wines, she also serves as secretary for the Board of Directors of the Deming-Luna County Chamber of Commerce, and is a member of Silver Spikes, a Luna County organization that works as a liaison between local businesses,a local government and state government. She also is on the Tourism Development Committee in Deming, NM.
She has lived in New Mexico since she was a young girl, and she now makes her home in Deming, NM, with her husband and 6 children. In her spare time, she enjoys hiking, camping, card games, and cooking.
Central Committee
The LPNM Central Committee is a large body that can range in size from a minimum of 49 members to a maximum greater than 180 members, depending on the number of registered Libertarian voters in the state. Read more about the composition and duties of the CentCom.
Current members of the Central Committee include:
Paul Ryan McKenney – 1st Congressional District
Ken Marshall – 1st Congressional District
Jessica Murphy – 2nd Congressional District
Debbie Espie – 3rd Congressional District
Ranota Banks – 3rd Congressional District
Rheanna Butler – At-Large
Ginger Grider – At-Large
Chris Luchini – At-Large
Ross Redmon – At-Large
Jay Vandersloot – At-Large
Vacant – At-Large (email the chair to be considered for this position!)
Plus, all county chairpeople, and a number of county affiliate and at-large members who are in the process of being elected.
Cabinet Officers
Don Bruckner, Chair, Politics/Policy/Compliance & Legal/Constitution & Bylaws Committee
Chris Luchini, Chair, Membership/Outreach/Technology Committee
County Affiliate Organizations
The LPNM encourages each county to organize its own affiliate group. Currently, about 15 New Mexico counties have active affiliate organizations. These affiliates are autonomous entities. Find county contact information here.
Save
Save
Save
Save
Save
Save
Save
Save